Women in roofing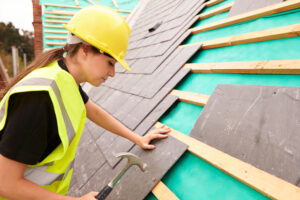 According to Business Leader, 99% of the UK's on-site construction workers are male.
When 47% of all employed people are women, how has this gender gap been allowed to remain?
Although we have female employees within our office staff, we do not currently have any female roofer. So, we are now asking ourselves; how can we move towards gender equality within our roofing teams?
How we encourage women to work in the roofing industry
We are an equal opportunities employer, but we have a distinct lack of women applying for our roles in roofing. We want this to change, so we will:
Always treat, pay, and promote people equally.
Offer the opportunity to gain qualifications.
Give on the job training, providing skills for life.
We order bespoke PPE for each member of staff, so that it fits properly.
We offer both paternity leave and maternity leave to our employees.
Where required, we hire in welfare facilities on-site.
We are aware that the work can be physically demanding, you need to be fit to be a roofer, and hardy, working outside in all weathers and at height, but these are all things that men and women are equally capable of doing.
Changing attitudes and perceptions
Roofing has often been seen as 'macho' and male dominated industry. We want this to change. As an employer, we always treat people, pay people, and promote people equally, regardless of gender. If you are enthusiastic about working for us, we will give you a chance to excel.
Our teams are welcoming, with people from all walks of life. Being part of a close-knit team working on one of our historically significant roofing projects can be very rewarding. When joining our team, you will be allocated a mentor to work alongside, learning on the job and they will make sure any of your concerns are addressed.
Work for us
We are always looking for reliable and enthusiastic roofing employees of all levels, including roofing apprentices, roofing labourers and experienced roofers. If you are based in the Frome area of Somerset and are interested in working for us, get in touch by emailing your name, phone number, location, and any relevant experience and qualification to: info@westcountrytiling.com and we will call you back for an informal chat about our roofing roles.