How do I choose the right roof tiles for my home?
Choosing the right roof tiles for your home is an important decision, as it can impact the aesthetics, durability, energy efficiency and functionality of your roof.
Some things to consider are the aesthetics of the roof, which tiles or slates will complement the style of your home? You may want …
Read more >>
PV Slates from GB Sol
The team at West Country Tiling have recently finished their first reroof using PV slates from GB Sol. We combined these solar power making slates with natural grey slates, to create a seamless finish between the two products. PV slates are an aesthetically pleasing alternative to traditional solar panels. Therefore, …
Read more >>
Bat friendly breathable roof membrane
When working on roof restoration and refurbishment on historical buildings, we often encounter bats living in the roof spaces. Once bats are found to be roosting in your property, there are many rules and regulations that must be followed to ensure they are still able to access the roof cavity, …
Read more >>
Is sand-cast lead making an endangered craft?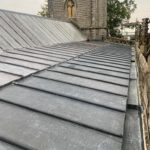 We have been producing our own sand-cast lead since 2007 using our partially automated 7-metre-long casting table. Our casting methods allow us to accurately control the final thickness and uniformity of the lead, so that Code 6 to Code 10 are available to us.
When working on a roofing restoration …
Read more >>