St Nicolas Church, Newbury
Joint Project
The team at West Country Tiling have been working with Farringdon based Andrew Townsend Architects for over 20 years on countless projects around the Cotswold. The first project we worked on together in the late 90's was the Abbots Fish House in Meare, the only surviving monastic fishery building in England.
Due to our longstanding professional relationship, Andrew asked us to tender for the lottery funded work on St Nicolas Church.
Newbury's Saxon heritage
According to the History of Newbury website, Newbury was originally the Saxon settlement of Ulvritone located south of the River Kennet. This settlement later became known as New Burgh. Burgh being the old English word for a fort or fortified settlement. Burgh later came to mean a town and is the origin of our word borough and in time New Burgh became Newbury.
St Nicolas Church history
As detailed on the St Nicolas' website, the first mention of a church on this site was in 1086, detailed in a grant from William the Conqueror to the newly-founded Abbey of St Pierre de Preaux in Normandy. This patronage continued until the wars of the 15th century, when the estates of foreign priories in England were granted by Parliament to the Crown. In around 1509 to 1533 the church was entirely rebuilt in the architectural style of the late Perpendicular period.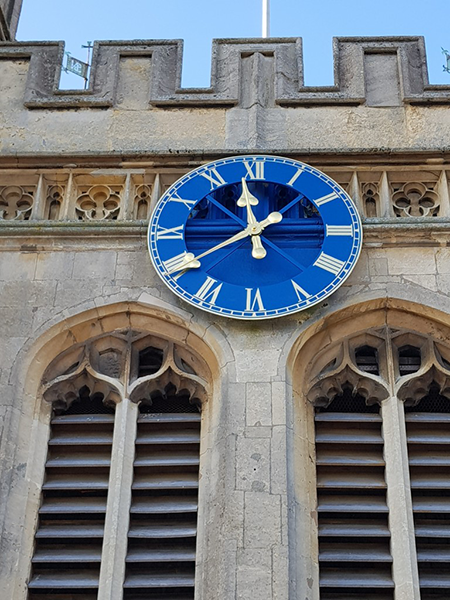 This contract involved:
Stripping the Nave lead roof and gutters
Re-building the steps of the gutter to comply with Lead Sheet Association recommendations
Renewal of a large proportion of the existing flat roof decking
Raising the height of the roof to allow the depth necessary for the gutter rebuild
Supply and lay new sand-cast lead to the gutters and flat roof
Masonry repairs to brickwork and merlons
Re-decoration of the clock-face on the Eastern elevation of the tower
The repairs to St Nicholas are now complete and the church is actively involved and engaged at the centre of life in Newbury.
Why choose West Country Tiling
We always take the time to complete the job to the highest of standards. If you have a roofing project that needs to be carried out by our experienced team, please get in touch on 01373 462 224 or by emailing us on info@westcountrytiling.com