St Lawrence, Alton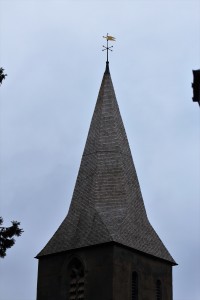 14/06/2017
St Lawrence, Alton
To this date we have stripped the Church spire of cedar shingles and replaced it with oak shakes, including close mitered hips and lead soakers. We also fixed lightning conductors around the building.
Whilst working on the roof we provided much needed ventilation by installing 104 new lead lucarnes! In the picture you can see that we have also gilded the weather-vane to create a really nice finish!
Once works on the roof were complete we commenced work on the ground, as a new drainage system was needed, because the current drainage system was failing. By fitting cast iron downpipes and installing a new soak-away system we managed to solve the drainage issues.