Deciding between a roof repair or a reroof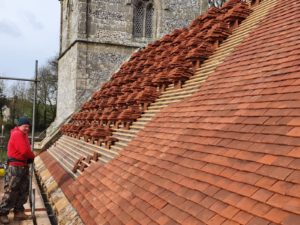 The team at West Country Tiling are often contacted by clients who need guidance on whether to reroof or repair their roof if they have a leak.
The first thing that must be ascertained is what is causing the water ingress. 
What to look for when your roof is leaking
The first thing that will fail on a roof will often be the mortar used on ridges, verges, hips and pointing of leadwork.
The second thing that is likely to fail will be the leadwork either through thermal splitting as a result of incorrect fixings, or just poor workmanship.
Sometimes the cause of water ingress is tile failure.
The final cause will be 'nail sickness', this is where the battens or the batten fixings themselves have failed.
In many instances, the roof leaking issues are caused by porous masonry, keeping a diary of extreme weather events will help you to know if this is the cause or not.
Having identified the issue with the roof, you must then decide between a one-off repair or if it would make more sense economically to re-roof. This decision revolves around the costs of access. If a lot of scaffolding is required for a repair, then it would probably make sense to re-roof that entire section rather than incur the costs of scaffold again in the near future. This is a touch of over-simplification, but the basic principle applies.
Once the decision to re-roof has been made, then a full survey of the roof details, timber structure and insulation must be carried out before our quotation can be submitted.
Within our quotation, we will identify each one of the "fixed" tasks that will be undertaken as well as highlighting the potential "variables" and associated costs.
Why choose West Country Tiling
If you have a reroofing project or roof repair that needs to be carried out by our experienced team, please get in touch on 01373 462 224 or by emailing us on info@westcountrytiling.com.