Repairing nail sickness damage – St Peter's Church, Hornblotton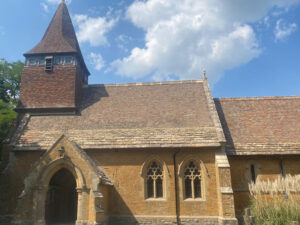 We recently completed the reroofing of the nave at St Peter's Church at Hornblotton in Somerset. This Grade I listed building is of Victorian design, built in 1872-74, replacing an earlier church located at this site that fell into disrepair.
St Peter's Church is of significant historical interest, due the unique interior wall decoration and an early example of an electric clock. This clock was the first of its kind in England to have a striking mechanism, controlled by a master clock in a nearby house. The interior walls are decorated with sgraffito, a technique attributed to the Arts and Crafts movement, whereby applying layers of tinted plaster in contrasting colours to moistened walls. The wall décor depicts scenes of Moses, Jeremiah, Isaiah and the Annunciation of the Lord, which were produced by cutting away the upper layers to reveal the strawberry-coloured undercoat of plaster.
Roof repairs carried out
Our initial work on St Peter's Church was carried out a few years ago, when we replaced the chancel roof. Although the nave roof was in need of repair, the church did not have the funds required at this time to replace it. Sadly, because the required repairs were not done at this time, in November 2022, the nave roof fell off after heavy snow overloaded the roof. Luckily, nobody was hurt.
The cause of this roof collapse was swagging, or nail sickness, this is when the nails become rotten and they rust out. When constructing a roof of this kind, the stone slate or clay tiles are fixed to the battens, which are fixed to the rafters that make up the roof's structure. In Victorian times, the nails used where made from hand forged iron, which have no surface protection from rust. These days a more robust nail is usually used when affixing battens, made from stainless steel.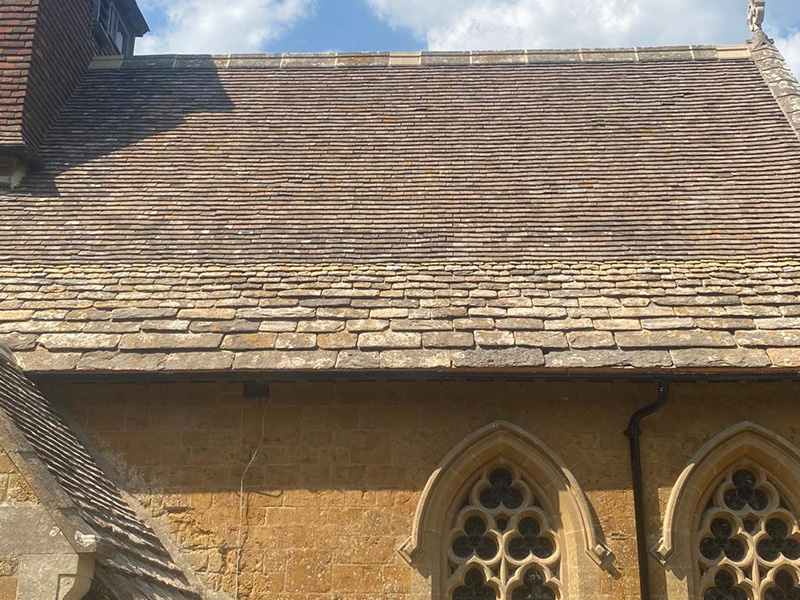 How to spot nail sickness
Thankfully, an emergency grant allowed the roof to be replaced at St Peter's Church. In order to not face this kind of roof collapse from nail sickness, it is vitally important that roof refurbishments on historical buildings are not delayed.
A roof may be suffering from nail sickness if the coursing is no longer consistent and regular, this is when the lines of the tiles, which should run horizontally, are no longer straight. If you observe this on your roof, it is essential to get it repaired as soon as possible to avoid a repeat of what happened at St Peter's Church.
Why choose West Country Tiling
Contact us if you have an historical roofing project that requires an experienced team of roofers. Please get in touch on 01373 462 224 or by emailing us on info@westcountrytiling.com.