PV Slates from GB Sol
The team at West Country Tiling have recently finished their first reroof using PV slates from GB Sol. We combined these solar power making slates with natural grey slates, to create a seamless finish between the two products. PV slates are an aesthetically pleasing alternative to traditional solar panels. Therefore, this roof integrated system will provide you with a discrete and attractive solar roof.
Benefits of using PV slates
By integrating PV slates with natural lightest grey slates, you can create a seamless finish, whereby the solar PV slates are practically indistinguishable from the normal roof slates.
Because these PV slates are made from toughened glass and high-quality aluminium, they are able to withstand all extremes of the UK's weather.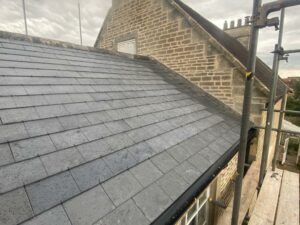 These PV slates were specifically designed to help those in restricted planning areas gain planning permission for solar installation on their property. They can be used in conservation areas, national parks and on listed buildings. However, you must check the details with your local planning authority before installation.
Each PV Slate weighs between 3.0-3.9kg depending on the model you choose to install. Because this is less than the weight of each natural slate it replaces, there is no increased loading on the property and therefore no remedial strengthening of the roof structure is required.
Other benefits of using PV slates as your solar power source include:
They can be fitted to pitches as low as 22.5 degrees.
They have achieved AA, the highest possible rating in fire tests.
They received Microgeneration Certification Scheme (MCS) accreditation.
They come with a 25-year warranty on product, solar performance and weatherproofing.
Benefits of installing solar power
Installing a solar PV system into your roof allows you to harnesses the natural power of the sun's energy and turn it into electricity to power your home. The benefits of installing PV slates as part of your natural slate roof include:
Save on your energy bills.
Reduce your home's carbon footprint.
Free you from reliance on the national grid.
Export your unused energy into the national grid.
Future proof your home from the rising energy costs.
Generate your own electricity in a sustainable and renewable way.
Why choose West Country Tiling
Contact us if you have a roofing project that includes the desire for solar power to be seamlessly installed. Please get in touch on 01373 462 224 or by emailing us on info@westcountrytiling.com.