Pre-planning your roofing project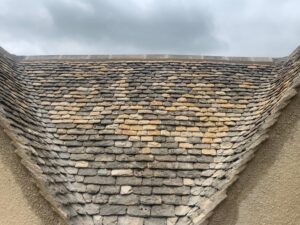 With lead times in the roofing industry at an all-time high, you will need to pre-plan before embarking on any new roofing project. This is because of the global supply issues affecting lead times on all roofing materials.
Some current lead times in the UK roofing industry are standing at 4-8 months, as experienced roofers, even we are finding it hard to meet our customers' expectations of how long they have to wait before we can commence their roofing project.
In the roofing industry, lead times are measured from when an order is placed until items are delivered to site. This lead time can be affected by multiple variables, such as market conditions, increased fuel costs, full order books, shortage of raw materials, delivery trucks and labourers.
Although some materials, such as concrete tiles have managed to resolve their supply issues, other materials, such as clay tiles, copper, steel and insulation, have suffered from price inflation and product shortages. These issues can be attributed to the knock-on effect of the COVID19 pandemic, Brexit, the global economy downturn, increasing inflation rates and the events in Eastern Europe.

Natural stone slates
35 years ago, if you wanted a new Cotswold stone slate, there was only one quarry producing these, and they were a by-product of walling stone.
Over the next 20 years, due to an Historic England directive that second hand stone slates should not be bought in, the number of quarries producing Cotswold stone slates increased to seven.
Post-Brexit and post-pandemic, with real issues in a lack of human resources, the number of working quarries is down to two. This is having a major knock-on effect to lead-times. We are currently being advised that the lead-time is 12 months for any quantity of new stone slates.
The long lead-time is manageable, if we can manage our clients' expectations, but the biggest issue is how can we quote an accurate price for a project 12 months in advance with the way material prices are fluctuating?
Why choose West Country Tiling
If you have a roofing project that needs to be carried out by our experienced team, please get in touch on 01373 462 224 or by emailing us on info@westcountrytiling.com.