Working with the National Trust
The team at West Country Tiling have been working with the National Trust for over 30 years. The restoration of historic roofs and leadwork is one of our specialities and we take great pride in our historical accuracy and traditional craftsmanship.
We've worked on iconic historical buildings such as Lytes Cary Manor, Lacock Abbey, Horton Court, Barrington Court, Godlingston Manor and the Robing Rooms in Corfe.

Tyntesfield House
In 2009-2010 we worked with architects Rodney Melville on the spectacular Tyntesfield House in North Somerset. Due to leaks in the roof causing extensive interior damage, this Victorian Gothic Revival house needed vast areas of its roof stripping before we could reinsulate and renew the plain tiles and carry out extensive leadwork.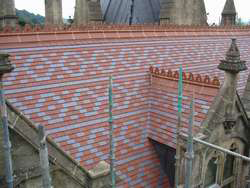 As with all historical restoration work we carry out, where possible we reused the original materials. Where this wasn't possible, we replaced 'like for like' with high-spec clay plain tiles. For us to lay the 47,000 new tiles needed on this project, 55 meters of free-standing scaffolding was constructed, supported by 28 miles of scaffolding tubes and the project took 9 months to complete.
The finished result was award winning, picking up the Chartered Institute of Building 'Constructing Excellence South West' and 'South West Built Environment Heritage Awards' in 2011 and then in 2012 the RICS 'South West Building Conservation' award and the RICS 'South West Project of the Year' award, and Tyntesfield House is listed in the 2012 Directory of Conservation.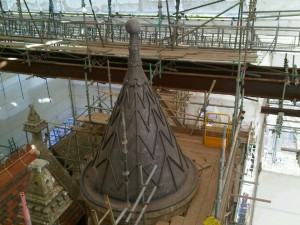 Tim Cambourne, the Senior Building Surveyor at the National Trust said, "The scale of the work that has taken place here is quite extraordinary and is probably one of the most significant moments in Tyntesfield's history."
We're extremely proud of the finished result at Tyntesfield and value our long-standing relationship with the National Trust to faithfully restore historically significant buildings across the South West of England.
Why choose West Country Tiling
We always take the time to complete the job to the highest of standards. If you have a roofing project that needs to be carried out by our experienced team, please get in touch on 01373 462 224 or by emailing us on info@westcountrytiling.com