Medieval roof repair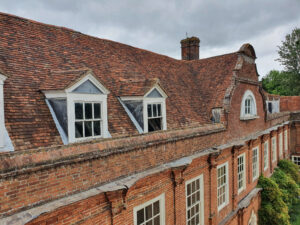 We recently carried out an intermediary roof repair on the most complex and interesting roof system I have ever seen. I visited the site alongside Simon Goddard, from The Goddard Partnership architectural design practice, to assess what could be done to restore this fascinating medieval roof back to its past grandeur.
West Horsley Place is a manor house in Sussex of historic interest and exceptional architectural significance. The oak-beamed core of the present house dates back to the 15th century, however there has been a residence on the estate since soon after the Norman Conquest of 1066.
There have been many alterations and additions over the past 500 years, including the addition of a Great Hall in 1536 and a red-brick façade in 1640. Screwed to the original Tudor timbers, this façade was all the rage at the time and was purely for show. It is now drifting away from the house behind it and is desperate need of reparation.
The house has been home to many prestigious people over its long history, but is now owned by a charitable trust with their vision being that "West Horsley Place should be conserved for the future and open for everyone to enjoy with culture, heritage and nature at its heart."
Roof repair and restoration
The team at West Country Tiling recently carried out some essential repairs on the roof to ensure the property is watertight. The roof is in need of a complete refurbishment. However, such an undertaking will require the charity to raise substantial funds.
As an intermediary measure, we carried out holding work to the roof to prevent a number of roof leaks, we repaired a couple of roof valleys, re-dressed some of the leadwork and stabilised the front gable. All of this work was carried out over a three-week period that had to fit around the current filming the BBC One comedy series, Ghosts.
When the full roof refurbishment is undertaken, a specialist carpenter and joiner will be required to carry out the complex repairs to the beautiful medieval crown post trusses and tie beams.
Why choose West Country Tiling
Contact us if you have a complex or historical roofing project that requires an experienced team. Please get in touch on 01373 462 224 or by emailing us on info@westcountrytiling.com.