How to find a Competent Roofer
Have you ever been let down by a roofer? Have you been left out of pocket and with a roof that is incomplete or leaks? We often have clients come to us after they have had a bad experience with a cowboy roofer who hasn't done as promised.
Competent Roofer Scheme
When it comes to finding a roofer who you can trust, who follows the regulations, delivers a high standard of work and who won't rip you off, our advice is to look for this logo…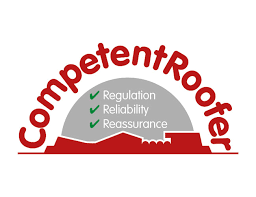 The Competent Roofer is part of the UK government's Competent Person Scheme which allows trades people to self-certify their work, assuring you that it is done to a competent level.
We are, of course, members of the National Federation of Roofing Contractors Ltd (NFRC) Competent Roofer Scheme and can self-certify that all our work meets the requirements of the relevant building regulations.
Trade checking websites
A word of warning against using trade checking websites; roofers, builders, and other tradespeople pay to be listed on these sites and there is often no real accreditation associated with these listings. We do not recommend this method of finding a roofer.
When selecting a roofer, ensure they are part of the Competent Roofer Scheme or are TrustMark government endorsed. We also recommend that you obtain a reference from someone who has used them before.
When searching online for a local roofer, try using the search facility on the NFRC website.
Why choose West Country Tiling
With over 30 years' experience of roofing, our Master Craftsmen have extensive knowledge of tiling roofs using slates, clay tiles and leadwork.
All our roofers undergo an apprenticeship with us, gaining their roofing qualifications while working under the guidance of one of our Master Roofers. This ensures that our team only deliver roofing work that is of the highest quality, and we do not let our clients down.
If you have a project that requires a reputable and trustworthy roofer, please get in touch on 01373 462 224 or by emailing us on info@westcountrytiling.com.