Holy Cross Church in Sherston
Holy Cross is a Grade I listed Anglican church in the village of Sherston in Wiltshire. The Domesday Book of 1086 recorded a place of worship at this location and it's believed Christians have worshipped here for over 900 years. A Norman church was built on this site c. 1170 and fragments of this can be seen in the present-day church. Holy Cross church also houses a crucifix donated to the church by Italian soldiers during WWII.
The present church was built in the 13th century and further extended in the 15th century. The original Early English style tower was restored in the Gothic revival style in 1733. The tower was restored again in the Victorian style in 1876-77 by T.H. Wyatt, renowned Anglo-Irish Architect and President of the Royal Institute of British Architects.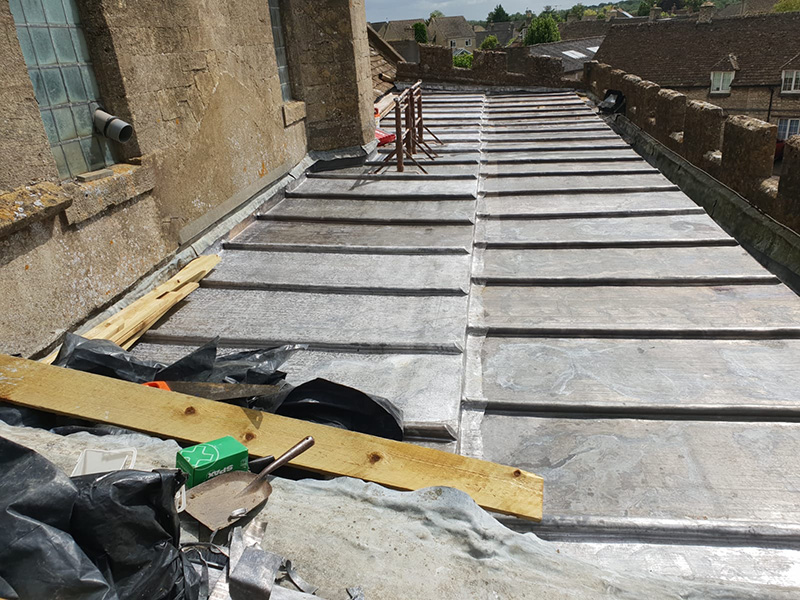 Present-day Restoration
The restoration of Holy Cross church was due to commence in March 2020, but due to the COVID19 related lockdown, work was postponed until early May, when the team were allowed on-site to commence work with the added safety of government and industry social distancing guidelines.
Working with the church architect, Izaak Hudson of Dittrich Hudson Vasetti, the lead was renewed on the Porch and South Aisle.
There has been long-standing issues with water penetration of the lead box gutters and these required a redesign and rebuild.
Once the lead was stripped for re-casting, repairs were carried out to severely damp affected wall plates and joists. We salvaged 50% of the historic roof boarding for re-use.
Code 8 sand-cast lead was laid in the gutters and Code 7 on the flat roofs to comply with Lead Sheet Training Academy recommendations, all manufactured in our workshops.
It is great to see the lead that has been on a roof for over 100 years being rejuvenated and re-used. This is re-cycling with clear results.
Why Use West Country Tiling
Our team has over 30 years of experience working with many churches and historical buildings, so when contracting us you will be party to our expert knowledge and professional know-how.
If you have a historical project that needs to be carried out by our experienced team, please get in touch on 01373 462 224 or by emailing us on info@westcountrytiling.com