Grade ll* Listed Building
The work carried out on a Grade II* listed building in Beaconsfield concentrated on improving the thermal performance of this historic building.
In order to achieve this the West Country Tiling team stripped the existing roof coverings and leadwork, and installed warm roof insulation from Natural Building Technologies.
We also re-slated the roof using random Westmoreland Green slates and laid 18 tonnes of our own sand-cast lead.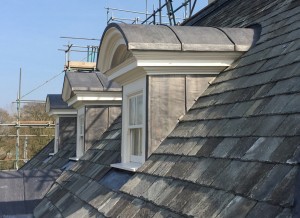 In addition to this we draft-proofed and decorated 43 sash windows, installed a new lightning conductor system and gilded the weathervane.
Special thanks to David Herridge, who ensured that the internal decoration of this circa 1675 building went without a hitch.
This project presented us with many challenges, and without the excellent site management of Michael Singer, this project could have been delayed.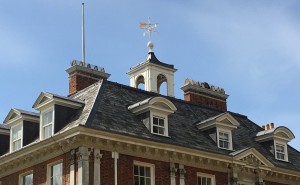 See the Gallery for more pictures of the finished project.
Working on a Grade II* listed building
One of the most serious issues with listed buildings is the presence of damp, and ensuring you have a watertight roof over your heads is what we do best.
When commissioning a roofer to work on a Grade II* listed building there are many things you should consider:
What work requires listed building consent and what work doesn't
Which materials can be used and which cannot
The importance of preplanning, as only certain materials are readily available, and others need ordering ahead of the project start date
The current philosophy for restoration of a building of special interest
Why use West Country Tiling
Our team has over 30 years of experience working with historical buildings, so when contracting us you will be party to our expert knowledge and professional know-how.
If you have a historical project that needs to be carried out by our experienced team, please get in touch on 01373 462 224 or by emailing us on info@westcountrytiling.com