Corfe Castle – Robing Rooms
History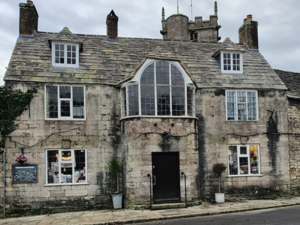 Corfe Castle is a Dorset village known for its iconic hilltop castle ruins, said to have inspired Enid Blyton's Kirrin Castle in the Famous Five stories.
There are a number of Grade II listed building within the parish, including the Church of St. James, now used as the village hall. Adjacent to the former churchyard is the Purbeck stone Town House, a National Trust owned property. The Town House is home to the Mayor's Robing rooms with its stone slate roof dating back to around the 18th century.
We have just completed this 4 month long project to restore the stone slate roof coverings. Stone slating is a very specialised roofing skill as it involves laying random width slates in diminishing courses. We have five teams that dedicate themselves purely to this type of work on historical buildings across the South West of England.
The project
The team here at West Country Tiling was responsible for stripping all of the stone slates on the Robing Room's Town House.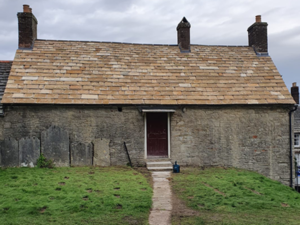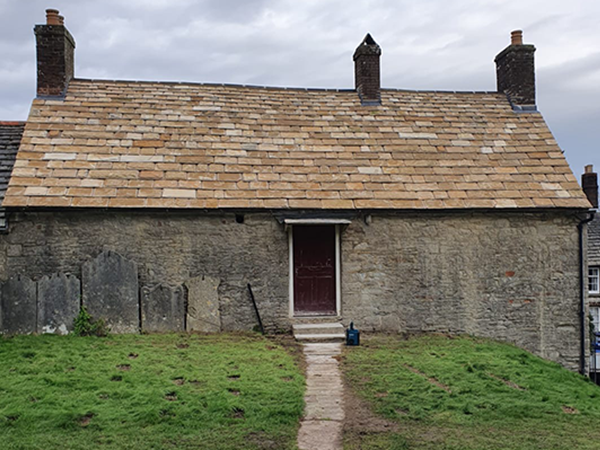 They then dressed and drilled them before re-laying them using the traditional methods allied with modern battens and pegs.
Dressing the stone is a process whereby the slate is taken back to the heart of the stone. Removing any superficial damage in this way means the traditional roof tiles will last at least another 100 years. Due to some natural wastage and dressing, the south elevation had to be re-covered with new slates from H F Bonfield just outside Swanage.
We also carried out full roof insulation and installed supporting steel work to a chimney stack.
---
Get in touch
West Country Tiling is unique in the way we work. We can provide you with a specialised team who can carry out both roofing and lead work, giving us a better understanding of the whole project. This also allows us to use our vast knowledge to anticipate and resolve the common issues when taking on a complex historical roof restoration project.
If you have a historical project that needs to be carried out by our experienced team, please get in touch on 01373 462 224 or by emailing us on info@westcountrytiling.com