Conservatory Conversion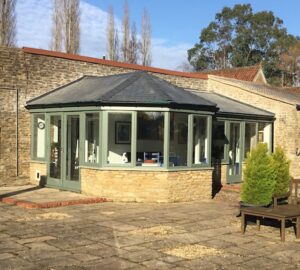 If your conservatory is too hot in the summer and too cold in the winter, we can solve this by replacing the glazed roof with a solid roof using a light weight polymer slate. By replacing glass with a solid roof, your conservatory can be transformed into a usable space with a stable inside temperature, allowing you to enjoy your conservatory all year.
Conservatory Conversion Case Study
The team at West Country Tiling recently completed a south facing conservatory conversion in Somerset. We transformed their conservatory from cold and damp in the winter and too hot in the summer, into a comfortable and usable new space.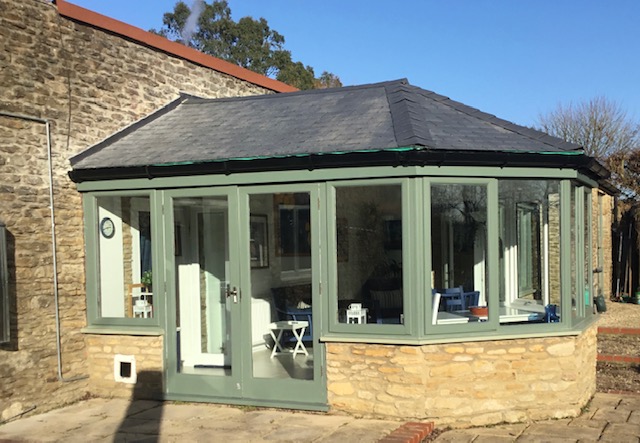 Before contacting us, Tony and Ruth tried various ways to resolve their conservatory issues. They initially added a mesh covering, created in Australia, to cover the glass roof and provide some shading, however this did not resolve the problem and the room remained to hot. They then added plaster board to the underside of the glazed roof, again this did not resolve the issue.
When Tony and Ruth contacted us, we visited the site to assess what could be done. A structural engineer was consulted to confirm our proposed solution was structurally sound. This conservatory conversion project included:
The materials used in this project were specifically chosen for their lightweight qualities and recycled components. We are delighted with the results of this successful conservatory conversion, as are our customers:
"Even in this colder weather the indoor temperature has remained most comfortable in the New Garden Room (and completely leak-free – unlike the old glazed Conservatory).
Many thanks for the whole team effort which was most professional in every aspect of removal and replacement of the structure."
Tony and Ruth, West Country Tiling customers
Why choose West Country Tiling
If you have a conservatory conversion or other roofing that needs to be carried out by our experienced team, please get in touch on 01373 462 224 or by emailing us on info@westcountrytiling.com.