Roofers in Oxfordshire
West Country Tiling specialises in historical and traditional roofs delivered by our roofers in Oxfordshire. We provide roofing services from the wallplate up and specialise in stone and natural slate, plain tiles and leadwork. We can also provide in-house scaffolding from Frome based S.A.M. Scaffold, carpentry, stone masonry and timberwork. We can assist with sourcing new and reclaimed material and sourcing stone slates or tiles as required for your project.
Our master roofers have considerable experience and specialise in ecclesiastical work, historic roof coverings and we will work with you to develop specifications that ensure a long-lasting water-tight roofs. The team have worked closely with architects, site owners, county councils, churches, traditional schools, the National Trust and English Heritage on numerous projects.
Projects in Oxfordshire
Our experienced team worked on the restoration and conservation of Blenheim Palace, the world-class visitor attraction in Oxfordshire. When working on the roof of an historical building of such significance, it's imperative that our workmanship is of the highest quality and exceptional care is taken to ensure the finish matches that of the original roofing.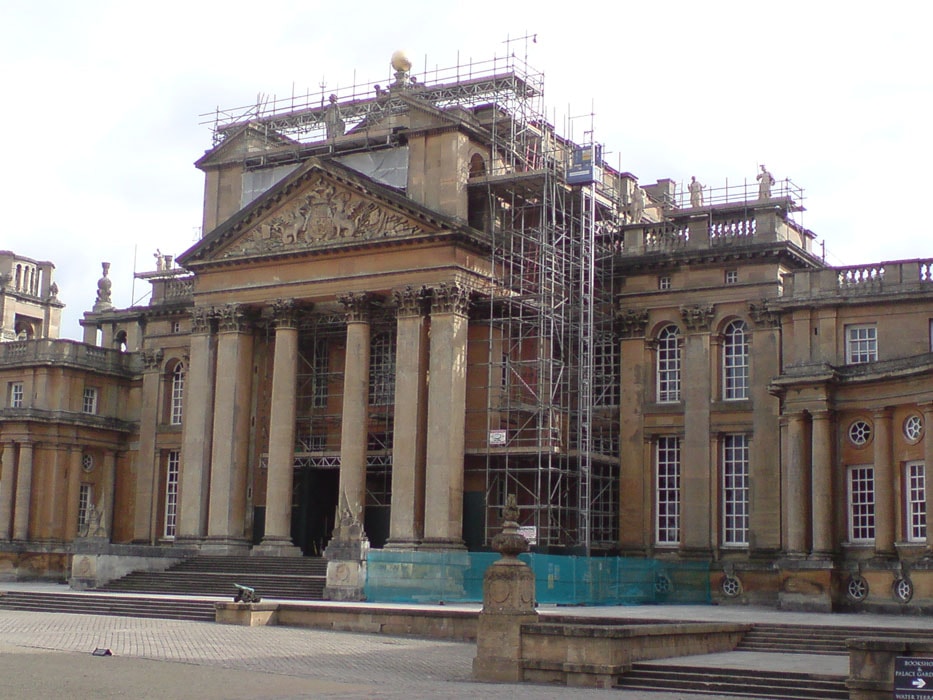 In 2019 our team of expert roofers re-roofed the medieval St Kenelm's Church in Minster Lovell, Oxfordshire.
We erected full temporary scaffold roofs.
Stripped and re-slated the North and South Transepts (stone slates)
Installed all new internal lighting.
Repaired and decorated ceilings.
Renewed rainwater goods.
Please see our Gallery for other examples of the roofing services we've completed throughout the South West of England.
Why Use West Country Tiling
Our team has over 30 years of experience working with traditional and historical buildings. We work with private clients, architects, builders and developers. The team always take the time to complete the job properly, so when contracting us you will be party to our extensive professional know-how.
If you require roofing services in Oxfordshire that need to be carried out by an experienced team, please get in touch on 01373 462 224 or by emailing us on info@westcountrytiling.com.