Roofers in Dorset
West Country Tiling Company is a specialist roofing contracting company providing full qualified roofers in Dorset.
Purbeck stone slates originate from South Dorset. This is one of the most beautiful of the stone slates and we have extensive experience in re-roofing projects using this roof covering. This stone is characterised by its clean and understated mid grey that resembles the colour of stone found on the Isle of Purbeck. It has been used as a building material for centuries and defines the historic vernacular of buildings in Dorset.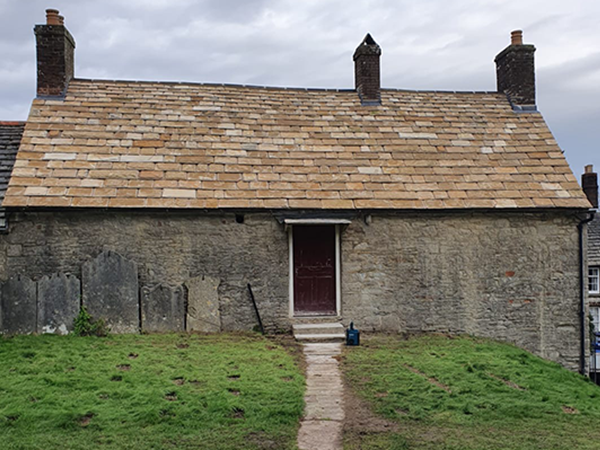 Ham Stone
In the north of Dorset, we often find that Ham Stone slates have been used. Ham Stone slates are quarried just outside Yeovil but have been used extensively due to their durability and gorgeous colour.
We have also carried out many lead roofing contracts in Dorset with perhaps the most prestigious being Portland Castle for English Heritage and the Robing Rooms at Corfe Castle.
We offer traditional roofing services in Dorset from the wallplate up, with all trades in-house, including leadwork, stone masonry, slating, tiling, carpentry and scaffolding from S.A.M. Scaffold.
We specialise in ecclesiastical work, historic buildings for private clients, the National Trust and Historic England.
Our master craftsman repair, refurbish, restore and re-roof only to the highest standards. We work with all kinds of roofing materials including stone slate, natural slate, plain tiling, leadwork and other roof coverings.
We always take the time to complete the job properly and source the materials we use for each job from specialist suppliers. For more information on the types of roofing materials we work with please visit our Roofing Services page.
Why Use West Country Tiling
Our roofers have over 30 years of experience. When contracting us you will be hiring exceptional craftsmen with expansive knowledge and professional expertise.
If you require roofing services in Dorset from our experienced team, please get in touch on 01373 462 224 or email us on info@westcountrytiling.com