All Saint's Church, Berkshire
Church history
All Saints' is a beautiful, Grade II* listed parish church in Binfield, Berkshire dating back to the 12th century.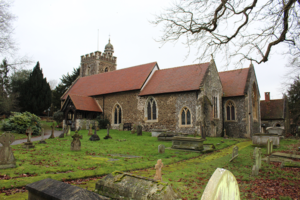 As detailed on the All Saints' website, it was originally one of the chapels of the Royal Manor of Cookham that was given to the Abbey of Cirencester by Henry I. Records show that the church was appropriated in 1347 by the Abbot. The church which stands today dates back to the 14th Century, with mid 1800's additions and restorations designed by the architect, Benjamin Ferry.
Phase one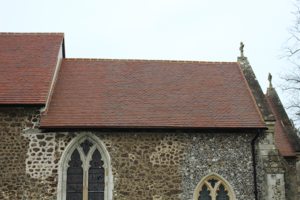 During phase one of this project we stripped and re-tiled the Lady Chapel, North Chapel and the Chancel roof slopes, including re-insulation of the roofs, using the Pavatex system from Natural Building Technologies, and finally the roofs were re-covered with new clay plain tiles, with the exception of the north slope of the North Chapel where we re-used the best of the salvaged tiles.
In addition to the roof tiling, we:
Renewed the lead valley gutters using our sand-cast lead
Renewed the rainwater goods with new cast iron
Installed Cintec anchors to the copings
Carried out masonry repairs using hot lime
Carried out minor timber repairs
Insulated and rendered two gables
Renewed the ceiling in the North Chapel
Phase two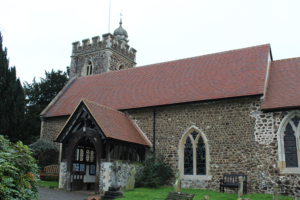 During phase two of this project we stripped and re-tiled the South Aisle and Porch roof slopes, including renewal and rebuilding of the lead valley gutter, insulation, lath and plaster repairs to the ceilings. We also decorated the ceilings with distemper and installed new rainwater goods. Hard distemper is a strong, wear resistant paint that was historically used to decorate many churches.
We are very pleased with the end result of this project, one of the many traditional churches we helped to preserve thanks to the National Lottery Heritage Fund.
---
Get in touch
West Country Tiling is unique in the way we work. We can provide you with a specialised team who can carry out both roofing and lead work, giving us a better understanding of the whole project. This also allows us to use our vast knowledge to anticipate and resolve the common issues when taking on a complex historical roof restoration project.
If you have a historical project that needs to be carried out by our experienced team, please get in touch on 01373 462 224 or by emailing us on info@westcountrytiling.com